Wednesday, December 14 2016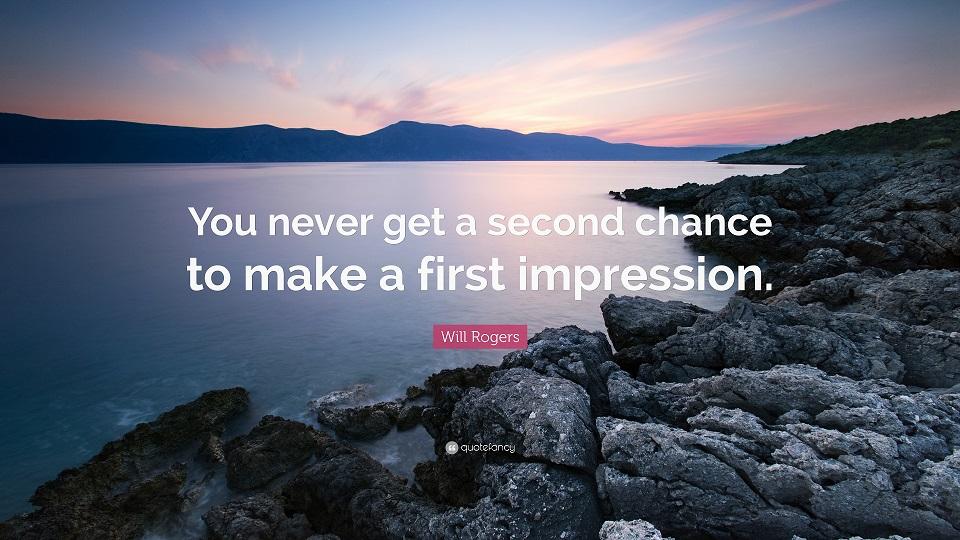 The power of a first impression is undeniable. There is only one chance for us to sell ourselves or our brand so to speak and the window is scarily short - between 7 and 30 seconds. Maybe 60 seconds if you are lucky. Managing Director of Recruitment 24/7 Mark Andersen states that "within the first 30 seconds I have my mind 70% made up, within 60 seconds I have my opinion formed and once I've decided it is very hard to change my mind".
If you look at the science behind first impressions it shows the way someone looks, the tone of their voice and the feeling people get makes up 93% of the opinion process – the verbal messages and the actual words used only make up 7%.
We've all heard the phrase 'You can't judge a book by its cover'. Although the phrase says 'you can't' – people do and we can't help it. We all do it – humans' first impression of any object or person is taken in with their visual sense. When we first meet someone, we either have a positive or a negative feeling. These feelings are usually based off of how we perceive them overall, including their look, attitude, demeanour and personality. A poor first impression physically can alter the way in which we interpret a person's personality as well.
Your long-term brand identity is built on first impressions. The way you represent yourself to the world tells a story about you, so you should definitely know what your brand is saying to strangers. Are you exuding professionalism, trust, integrity and good service? Or does your brand come across as fake, too pushy or unprofessional?
When applying for a job / attending an interview it is crucial that you dress for success. It doesn't matter if you are applying for a labourer's position, administration or truck driver. You should turn up looking presentable. Smart casual is the minimum depending on the industry that you should be aiming for. Working in the recruitment industry I can tell you that shorts, thongs and a singlet is never ok. When you apply for a job through a recruiter often times they will be your employer sending you onsite to clients. You represent not only yourself but the recruiting company as well.
In a work setting, when you first start a new job keep in mind that you will be making first impressions throughout your entire first week, or even first month depending on the size of the business. Not everybody will meet you on your first day.
With every new encounter, you are evaluated and a new opinion of you is formed, over and over again! Halfway into your second week of work you may be introduced to someone new and asked to do training with them or even lunch with them. Pay close attention to your body language, and your responsiveness. That person may be your supervisor or peer one day and they will always remember that first time they met you and their first impression of you.
First impressions aren't just made face to face, especially when you are looking for work and applying for jobs. You are marketing yourself in writing via your applications. A very important first impression of your brand is reflected in your resume. Working in the recruitment and training industry, I know the importance of a good resume and cover letter.
Nobody can ever underestimate how important it is to have a good cover letter and resume. First impressions count and the first impression that a potential employer will have of you is going to depend on how you present your resume. This is going to be your one and only chance to capture a potential employer's attention, or for your resume to be tossed into the file of those they don't want to pursue.
Most prospective employers / recruiters spend only 30 to 60 seconds initially scanning a resume. It won't get you the job but this initial scan can certainly rule you out. Obviously different industries and jobs will have recruiters looking for different things. But knowing this and adjusting your application be it layout, details even information order can make the difference from being in the discard pile to the consider pile.
My great grandmother used to say "You should never leave the house unpresentable. If you leave your house even to go to the store and you say I hope that nobody sees me, I look horrible!" – You are certainly not in a position to make a good first impression on anybody. You don't need to look like a runway model every time you leave the house but you can always look neat or smart casual.
First impressions count and as the blog is titled you never get a second chance at a first impression! It's a small world and everybody knows somebody.
If it has been a while since you had to apply for a job or feel like you need some help you can undertake a short course to help brush up on your skills. Attain Training 24/7 run courses including Resume writing and job application skills launching in 2017.